Hargeisa, also known as Hargeysa, is the largest city in the self-declared but internationally unrecognised Republic of Somaliland. The Republic of Somaliland has declared Hargeisa its capital.
In the late 1980s, the anti-governmental rebel group Somali National Movement (SNM) took control of Hargeisa, and the government responded with air strikes. These bombings, and various outbursts of crossfire between SNM and regime forces, caused massive damage in Hargeisa. After 1991, a lot of repair work commenced, partly financed by previous residents who had fled abroad and were sending money back to relatives still living in Hargeisa. Since then, most of the residential and commercial buildings have been repaired or rebuilt, and many new buildings have sprung up as well. In downtown Hargeisa, high-rises have become an increasingly common sight.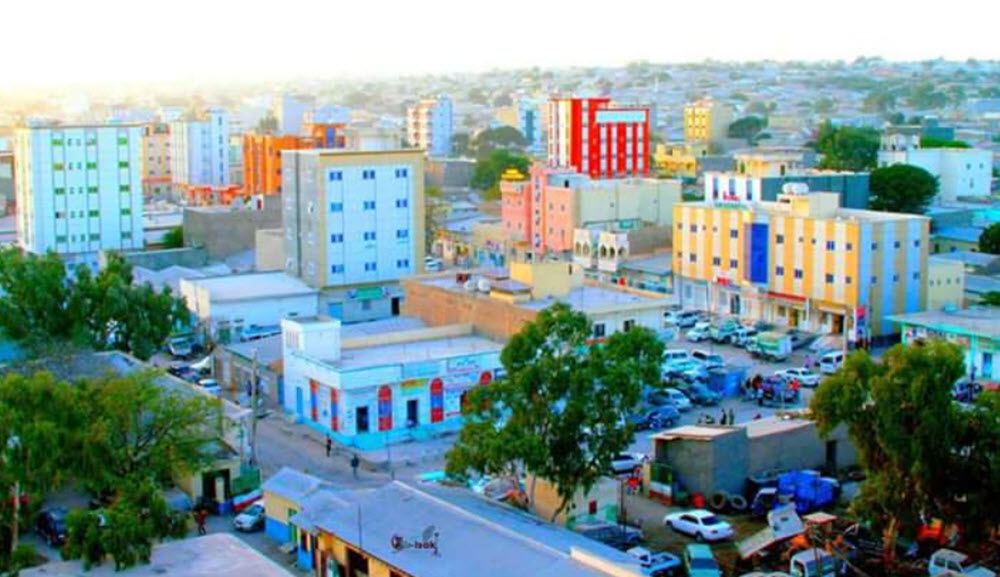 Where is Hargeisa?
You'll find Hargeisa in a valley in the Ogo Mountains (Galgodon highlands), at an elevation of 1,334 meters above sea level.
The city is located within Woqooyi Galbeed, a district in the north-western part of Somaliland. Woqooyi Galbeed is bordered by the Gulf of Aden to the north and Ethiopia to the south. Woqooyi Galbeed is one of the most populous parts of Somaliland. In addition to the capital city, it is home to notable ports and plenty of fertile farmland.
Short facts about Hargeisa
Coordinates: 9°33′47″N 44°4′3″E
Population: Approximately 760,000 in 2015
Area phone code: +2563
Time zone: UTC+3 (East Africa Time)
Economy
Hargeisa is a political and commercial hub in Somaliland.
Notably, industries are stone-cutting, construction, trading, and retail services.
There is no stock market or other exchange in Somaliland.  Nor is there one in Somalia.  This makes the area one of the few areas in Africa that are not served by a local stock market.  Establishing a stock market in the area is of huge importance to unlock the hidden economical potential of the area and help lift the nation(s) out of poverty,  The lack of stock market is one factor that prevents large areas of Africa from attracting outside investments.   This is true despite the fact that most of Africa features local stock markets.  Most of these stock markets are however too small and unknown to attract foreign investors and capital.  These smaller stock markets need to be merged into exchanges that are large enough to attract the interest of international investors.  This will allow international investments to flow into Africa.   Stock markets could help ushers growth that generates jobs for the working class and allow the small middle class to improve their situation by making money on the stock market.  Money they can invest in new ventures that create new jobs.  You can read more about why stock markets might be the key to ending poverty in Africa here.
Education
Primary and secondary education
Hargeisa have both primary and secondary schools, including the Abaarso School of Science and Technology which is the most well-known secondary school in the region. This non-profit co-educational boarding school is located 18 km west of central Hargeisa. It was a secondary school only until 2013 when it started offering intermediate education as well.
Post-secondary education
Hargeisa is an educational hub for Somaliland and several colleges and universities are found here, including:
University of Hargeisa
Hope University (focused on health, technology and management sciences)
Marodijeh International University
Gollis University
Somaliland University of Technology
Admas University College
The Edna Adan Maternity Hospital is also an educational facility that provides training for midwives and reproductive health nurses in collaboration with the Ministry of Health, UNICEF and WHO.
Climate
Hargeisa is located within an area characterized by a semi-arid climate. The summers are hot and the winters somewhat milder. Compared to more low-laying parts of the tropics, Hargeisa is pleasantly spared from very hot weather, since the elevation has a cooling effect. The absence of very hot summer days is relatively unusual in semi-arid climates in the tropics.
The average daily mean temperature is around 23-24°C in April – October. For November – February, that figure is circa 17-19°C.
A majority of all rainfall in Hargeisa arrives between the months of April and September. The rainiest month is August, with around 80 mm of rainfall in an average year. All in all, Hargeisa gets around 410 mm of rain per year.
Surrounding environment
As mentioned above, Hargeisa is located in valley in the Ogo Mountains. The Sheikh and Daallo mountains are nearby, and they both receive plenty of rain. When Hargeisa was a small town, it was surrounded by forest, but today only small junipers remain.
The area south of Hargeisa is a part of the Haud, a landscape characterized by grasslands and thorn-bushes. This is an important grazing area for wild animals, and some of this wildlife can actually still be found in the more rural outer Hargeisa neighbourhoods, where you might stumble upon warthogs, wild boars, kudu, Somali sheep, and camels – just to mention a few.
Naturally, the abundance of grazing animals on the Haud attracts predators such as lions and leopards.
Transportation
Local buses
The most commonly used form of public transportation in Hargeisa is bus, and nearly all the districts of the city can be reached by public bus.
Intercity buses
Intercity bus routes connects Hargeisa with cities such as Borama, Burao and Berbera.
Taxi
Several taxi companies operate in Hargeisa, including Marodi Jeh Taxi, Dalhis Taxi and Hargeisa Taxi.
Hargeisa International Airport
Hargeisa International Airport is located to in the southernmost part of Hargeisa (coordinates: 09°31′06″N 044°05′20″E).
IATA code: HGA
ICAO code: HCMH
The runway is 3,700 meters long and the surface is paved asphalt.
The following airlines offer scheduled passenger service from Hargeisa International Airport:
Airline
Destinations
Air Arabia
Sharjah
Air Djibouti
Djibouti
African Express Airways
Berbera
Cairo
Dubai–International
Mogadishu
Nairobi–Jomo KenyattaSharjah
Daallo Airlines
Djibouti

Dubai–International

Jeddah

Mogadishu

Ethiopian Airlines
Addis Ababa
Flydubai
Dubai–International
Jubba Airways
Bosaso

Dubai–International

Jeddah

Mogadishu